TAUGHT BY NORTH AMERICAN MASTER SPRAY TAN ARTIST IN BODY CONTOURING & PHOTO READY SPRAY TANS
★ TORONTO'S # 1 SPRAY TAN ACADEMY

★ HIGHEST STUDENT SUCCESS RATE
★ CANADA'S #1 CHOICE FOR SPRAY TAN EDUCATION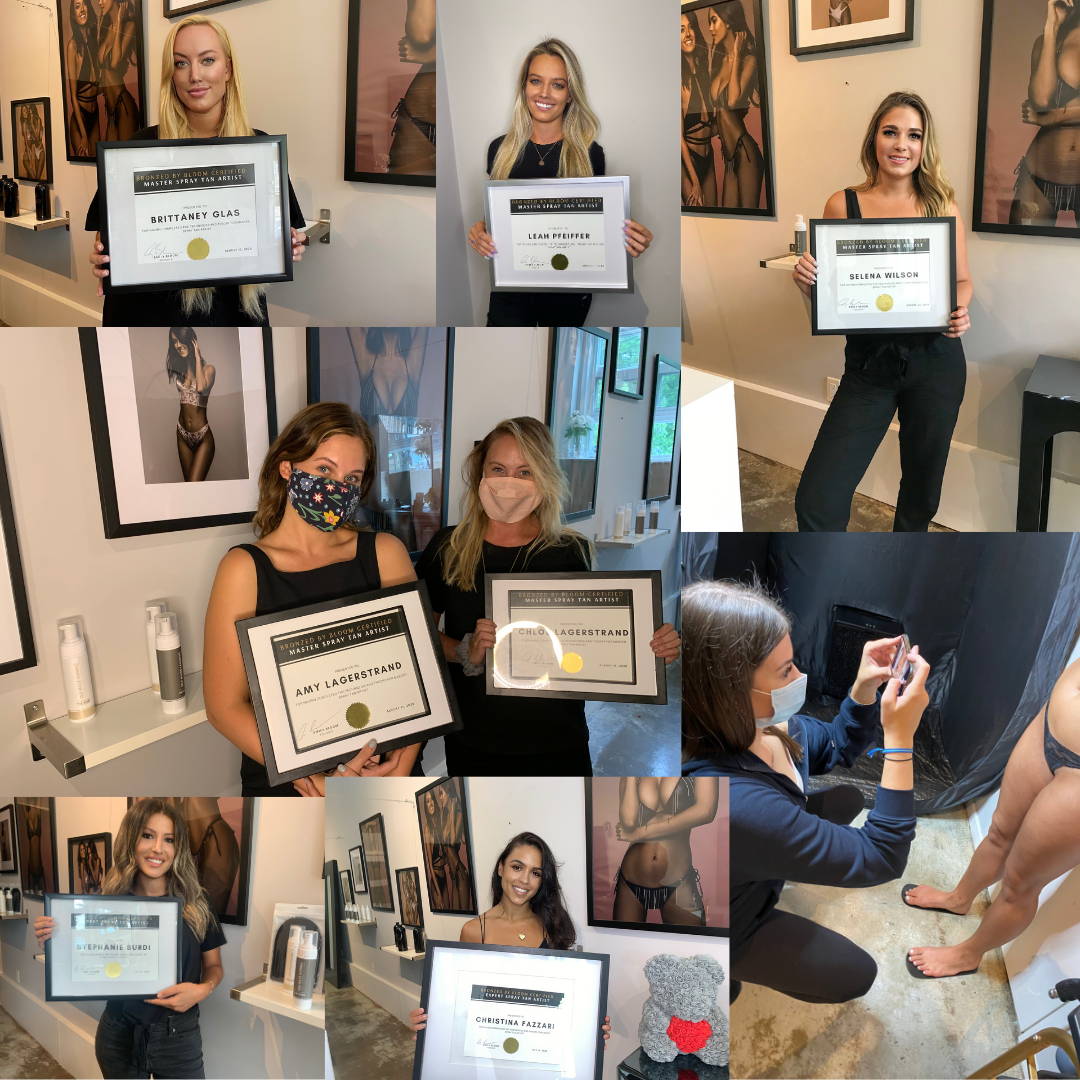 all our classes are
private 1:1 training
Spray tanning is one of the fastest growing services within the beauty industry. The reason behind this is the desire for having youthful, glowing skin is trending right now and more and more customers every day become self aware of the harmful effects the sun has on our skin. Sunless tanning is the future for all tanning seeing how being tanned will never go out of style. Bronzed by Bloom is committed to delivering the most updated, focused, and thorough training curriculum to every one of our artists. Starting a spray tan business requires very low start-up costs, while often providing a very highly lucrative income quickly. Enjoy financial freedom in just 6 months or less is how fast you can build up a clientele in this fast growing industry! Our artists are known to open up their own locations very fast and enjoy the benefits of being their own boss. Our goal at Bronzed by Bloom is for you to leave our course feeling 100% confident in your ability to provide each and every client with a perfectly flawless luxury spay tan.
Our passion is your success and guiding you to achieve that, this is why we offer all our artists Unlimited support 7 days a week with includes free access to our facility if ever you need more training with technique. We want you to feel completely supported during your Artist journey at all times.
Our courses teach all the fundamentals of spray tanning and more, our revolutionary sculpting techniques will allow you to create customized body sculpting and contouring spray tan services. Our unique methods, techniques and BBB Solution will leave your clients looking sculpted, toned, and beautiful
ultimately making your services stand out against your competition!
- Introduction to sunless
- The principles of DHA
- Why spray tan is a wonderful alternative to sun exposure
- The skin types and skin problems
- How to avoid common mistakes
- How to customize your service for each client
- Colour theory and how it applies to solution
- The essentials for achieving a flawless tan
- How to use sunless tanning solutions
- Sunless Equipment 101
- The right technique to use to create a natural-looking tan
- The fundamentals of marketing
- Introduction to Social Media
- How to stand out and expedite building your clientele
- Comprehensive and complete training manual
- Hands-on training technique
- 5 DEMO MODELS
- Certificate of completion
- Exclusive discount on starter kits
- Access to BBB professional shop
- Access to useful training videos
- Access to marketing tools and images
Ongoing support
*OUR training does NOT include equipment and supplies.
SEPTEMBER 2020 TRAINING DATES


FREQUENTLY ASKED QUESTIONS
We provide everything you need: training manuals, pens, machines, equipment, solutions and material, models and snacks!

8-10 Hours depending on you!! We will stay as long as we have to until your feeling comfortable and confident!
How can I run a profitable Spray tan business?
Spray tanning is a very profitable service to offer as an add on to an existing business or to start a tan business on its own. You have to learn from the experts on customer & brand building to ensure success and learn how to properly run a business. The potential to earn a lucrative income is high, charging anywhere from $50-$80 for a 15-20 minute session depending on where you are located. You get the luxury of running your own schedule, get the opportunity to meet new amazing people, make money and all this while having a good time. In order to make your business lucrative you must learn the art of customer service which is something we teach in great depth here at Bronzed by Bloom. You also will be learning how to run social media and attract clients the right way.
- Answer your client's questions properly
- Offer a full client experience
- Always offer a follow up after a service
- Build a loyal clientele
- Manage your demand 365 days a year
- Build great social media presence
- Offer great promotions to keep customers coming back
✕