TAUGHT BY NORTH AMERICAN MASTER SPRAY TAN ARTIST IN BODY CONTOURING & PHOTO READY SPRAY TANS
★ toronto's # 1 SPRAY TAN ACADEMY
★ HIGHEST STUDENT SUCCESS RATE
★ canada's #1 choice for spray tan education


starting a spray tan business
is fun and lucrative with low start up costs!
The Spray Tan industry has imploded becoming one of the largest fastest and growing industries within the Canadian and American beauty industry. Allow yourself the freedom to choose your schedule and work hours while being involved within an industry that allows large potential for growth and reward. The sunless industry can be extremely lucrative for those who are eager to work hard and wish to build a business for themselves. If your looking to run a Spray Tanning salon with the expertise and knowledge on brand building, salon management and formulated techniques or looking to add a second job to your schedule to make extra income on the side by offering mobile spray tanning, or a mother looking for a flexible and lucrative career - Bronzed by Bloom has mastered it all to teach you how to successfully grow your business organically with minimal start up costs!
Our goal is for you to become a confident and successful Spray Tan artist with training that is extensive and knowledgable. We offer programs for novice artists looking to learn about sunless tanning on a fundamental level. We offer a range of education that is suitable for beginners all the way ip to our already experienced artists whom are looking to refresh their education and learn more skills. We evolve our techniques and our programs yearly to make sure our education is always updated with the newest information, techniques and programs! We make sure to always have refresher courses for already certified artists at a discounted rate to accommodate our ever growing education program. Our master trainer Emily Bloom is constantly taking new courses, educational programs and attending yearly conferences to continuously evolve her techniques and background while always educating her staff consistently on the newest updated product lists, equipment, techniques and trade secrets.
Our staff at Bronzed by Bloom attend monthly seminars with Emily Bloom to ensure they are on top of the game with their training technical and always providing 10/10 training for our students! Either you are training with our highly educated staff or Emily Bloom 1/1 you are guaranteed the most advanced and informative training possible in Canada.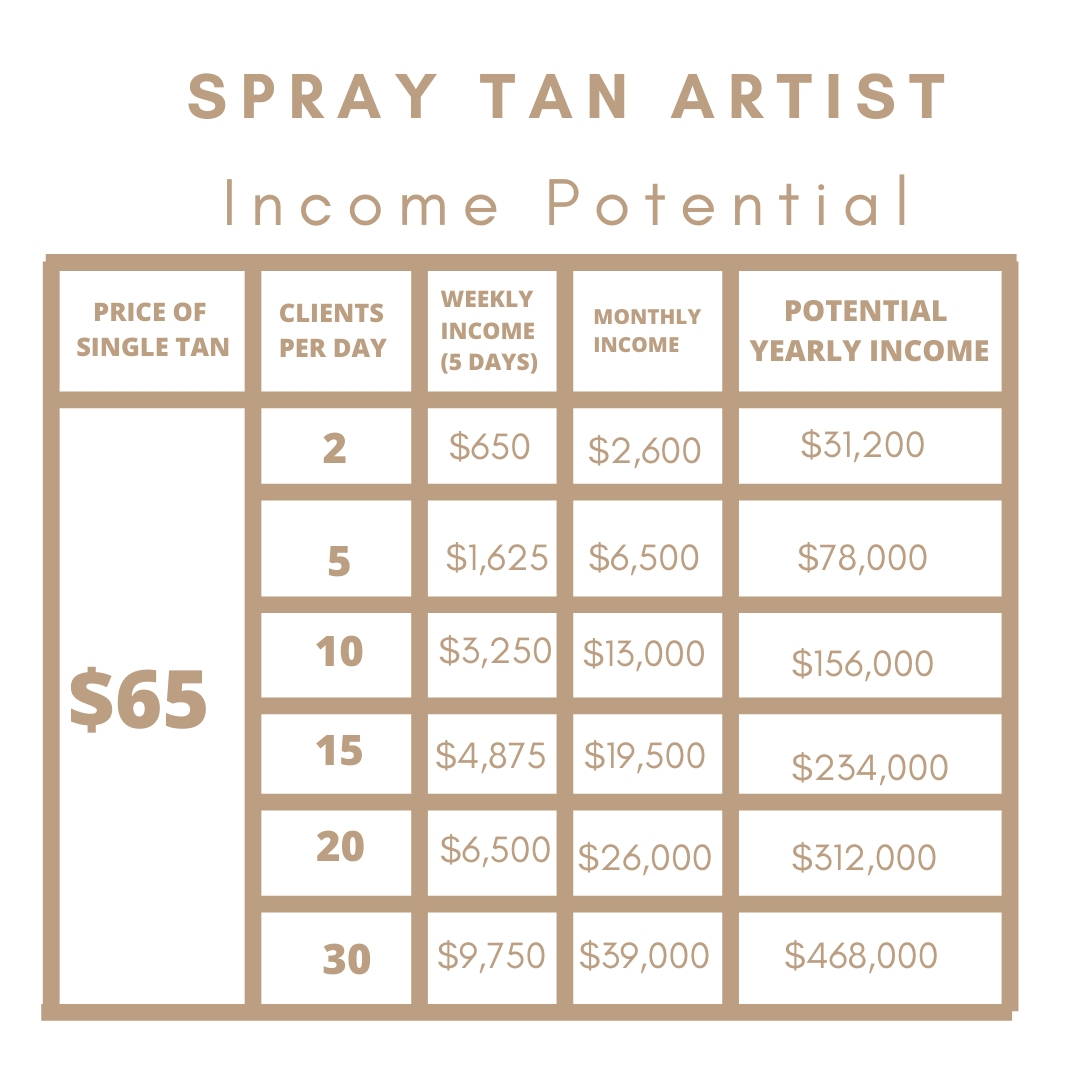 EVERY CLIENT REPRESENTS 30 MINS OF WORK FOR EXAMPLE; 2 CLIENTS PER DAY MEANS 5 HOURS A WEEK FOR $650 THAT IS $130 PER HOUR
- Introduction to sunless
- The principles of DHA
- Why spray tan is a wonderful alternative to sun exposure
- The skin types and skin problems
- How to avoid common mistakes
- How to customize your service for each client
- Colour theory and how it applies to solution
- The essentials for achieving a flawless tan
- How to use sunless tanning solutions
- Sunless Equipment 101
- The right technique to use to create a natural-looking tan
- The fundamentals of marketing
- Introduction to Social Media
- How to stand out and expedite building your clientele
✕